Top Rated Local® Accident Injury Treatment
Mesa Chiropractors You Can Trust
Helping With Chronic & Acute Pain with Pain Management
Chiropractic Care For Auto Injuries & More
Our bodies can certainly take a beating. If you're active in any capacity or you play sports, you are moving your muscles and bones and sometimes in demanding ways. In addition, you may be in a car accident, which can throw your body out of whack from the shear forces involved. Accident Chiropractic in Mesa offers comprehensive chiropractic care. We offer many services that can help you regain mobility and lessen your pain, from physical and massage therapy to chiropractic adjustments and acupuncture. We offer free consultations where we'll do a thorough exam, gather a ton of information, including about your pain and conditions, and then form a comprehensive pain management program personalized to you. With years of experience, we can help you feel better today. Call now to schedule!
SERVICES ACCIDENT CHIROPRACTIC OFFERS IN MESA
Auto accident injury treatment
Pain management
Chiropractic adjustments
Chronic pain management
Back pain & neck pain management
Physical therapy
Massage therapy
And more!
Auto Injuries
Many people are involved in auto accidents every year. In fact, every year in the United States, there are about six million car accidents. Of those, three million people are injured with about two million drivers injured permanently in some capacity. Some of the most common injuries include neck injuries, such as whiplash, lower back injuries, and injuries to the extremities such as your arms or legs. Accident Chiropractic in Mesa can help relieve the pain from these injuries and get you back on your feet again in no time.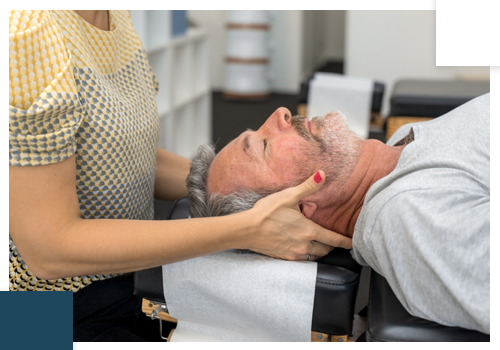 Conditions Our Mesa Chiropractors Can Treat
Auto accidents are just one example of injuries we can treat. Our chiropractors also can treat many other conditions and injuries and offer pain relief, such as sports injuries, bursitis, tinnitus, osteoporosis, lower back pain, heartburn, allergies, constipation, headaches, depression, and more. Oftentimes, you've tried every other form of treatment outside of surgery, which is your last resort. Chiropractic care is an all-natural form of treating your body for acute and chronic pain. Our Mesa chiropractors can help. Reach out today.
Chiropractic Treatments
At its core, chiropractic care focuses on diagnosing and treating problems and pain associated with the musculoskeletal and nervous system. In fact, the number of chiropractors in the United States outnumber all other healthcare professionals except for doctors and dentists. While healthcare services vary amongst chiropractors, almost all focus on spinal manipulation, or chiropractic adjustments. This type of care restores mobility in patients, which has been limited by hypomobile or injured tissues, which can cause pain. Chiropractic adjustments allow tissues the time they need to heal. Contact our team to learn more!
Pain Management
Many people immediately turn to medications to treat acute or chronic pain. The result of this can be a dependence developed or a temporary treatment that never solves the underlying cause. Our Mesa chiropractors strive every day to help you manage your pain with chiropractic treatments, acupuncture, infrared and laser therapies, and physical therapy. We also utilize our Triton Decompression machine to stretch and relieve pressure and inflammation on your spine and nerves. Our auto accident chiropractors can help. Call today.
Being in a Car Accident
Being in a car accident can be very traumatic, especially if you or a loved one is injured. Our accident chiropractors in Mesa can help alleviate any pain you are experiencing and develop a treatment plan for the long term. If you are in a car accident, you should stop and call the police. The police will file an accident report with statements of what happened. You should take pictures of the damage done to your vehicle and the other vehicle or objects involved, and then call your insurance agency to report the accident. See out medical attention or treatment if necessary. Call your local car accident chiropractor today.
Back Pain in Mesa
Back pain is a common complaint for many. With almost 65 million Americans experiencing some sort of acute back pain and over 16 million reporting chronic back pain every year, back pain can be a detriment to your life. If you are experiencing back pain in Mesa, give Accident Chiropractors a call. Our experienced and knowledgeable accident chiropractors have many tools in their wheelhouse to help lessen your back pain and get you back to the life you enjoy living. Call today to learn more.